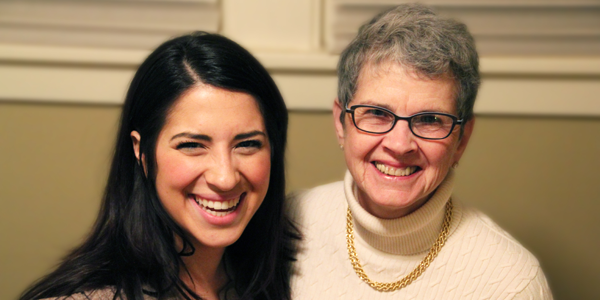 Retired social worker passes on the Heifer legacy to granddaughter

Diane Greenaway - Heifer Foundation Donor from Heifer Foundation on Vimeo.
"Ever since I was a little girl, I've always called her 'Noni,'" Jessica Thorsen of Syracuse, New York explains of her grandmother, Diane Greenaway.

"It means 'gift from God' in Ashanti (African)," she adds.

Originally from Alberta, Canada, Diane lives in Buffalo, NY and is a retired social worker for anti-poverty programs. Over the past several years, she has sustained her passion for fighting hunger and poverty as a donor and volunteer of her time to Heifer International and Heifer Foundation.

"I first discovered Heifer through the gift catalog and gifted a goat to Jessie," Diane says. "When Jessie was 10 years old, the Heifer catalog came to our home. It had Susan Sarandon on the front. We worked our way through the catalog and chose a goat for Jessie. So, on Christmas morning, we gave her a goat and she wasn't very pleased."

But Jessica embarrassingly explains, "I said, 'what am I going to do with this goat? What is this for?' But I was only 10 years old! However, the more Noni became involved with Heifer, I gained a better understanding of it."

It was 10 years later in 2006 that Diane decided to give the opportunity of a Heifer Study Tour as a gift Jessica. After looking at the areas of poverty in the world they could choose to visit, they chose Albania and Kosovo.

"It was beautiful. The people were beautiful. I remembered looking at them and thinking how everyday was a fight for them to live and feed their families," Jessica says.

Diane explains, "The War Widows project in Kosovo was so phenomenal. All of the women had lost their husbands - they had been murdered. Some had lost their sons and husbands. The cultural pattern was that the women were expected to leave the children with the man's family and go to live with their own family until they were remarried. They were, in essence, losing their children. So Heifer provided them with heifers and training, and development of a women's group."

While there, Diane sat next to a woman who said, "We will not bore you with the sadness we hold in our hearts. We are here to celebrate."

Diane adds, "Heifer gave her the animals so that gave her the right to be able to take care of herself and her children. But the greatest gift that Heifer has given her was the community coming together and sharing and making a life for themselves."

"When I returned from Albania and Kosovo, I really got caught up in the idea of sustainability, that when you're gifting, it needs to last. My father who had just died had left me a little bit of money, so I set up an endowment in my parent's name. It's the Ted and Ruth Greenaway Memorial Endowment for Women's Issues in Albania and Kosovo," she says.

Every year, these endowments will make available funds to Heifer Albania and Kosovo specifically supporting gender equity programs and training to allow women to become leaders in their communities.

Diane says, "I'm very happy to know that the resources that I have are in a sustainable place and they're going to be taken care of and used on behalf of the world who have a great need. So, I'm very grateful for my father for making the money available and then being able to pass it on in the tradition of passing on the gift."