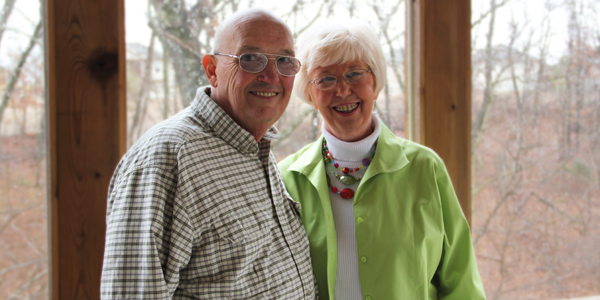 Retired couple finds joy and security in giving back

Larry and Jean Mosby - Heifer Foundation Donors from Heifer Foundation on Vimeo.
Both Larry and Jean Mosby spent most of their lives with careers in accounting and economics. But instead of ledger sheets and calculators in hand, it's now a golf club or a stained glass project that keeps them busy. The Mosby's currently enjoy a quiet life of retirement in the Ozark hills of Bella Vista, AR complete with a hammock swing on their screened in porch.

"My first introduction to Heifer was through Jean," Larry explains. "She first became involved with Heifer at her church and since then she's led two groups and attended a third event at Heifer Ranch."

"I was invited to the Ranch for a retreat and I was so impressed with what we saw and did there that I organized a tour for my church. A year later, we organized a second tour and I took Larry on that one," Jean explains.

Since then, she says not only has their church become very involved with Heifer, but they have too. For special occasions, they don't buy each other material items. They give each other goats, chickens, even water buffalo from the Heifer gift catalog.

Larry adds, "We are Heifer Foundation donors. We have a trust, an endowment and Heifer is a beneficiary in our wills."

"The charitable remainder trust provides both of us with money to live on with quarterly payments. It almost pays the medical bills," he laughs.

"By setting up this trust, it was a way for Larry to show how much he loves me because he's provided for me. Yet, his inheritance will go to Heifer of which I'm very supportive," Jean says.

"We do a lot of giving, but Heifer is more the idea of if you teach a man to fish, he'll feed the village," Larry explains as to why they are more dedicated to Heifer than other non-profit organizations.

Jean likes the fact that Heifer helps to improve communities. "You're not just helping individuals but you're forming a community of people that have something in common. And "passing on of the gift" gives them a gift also - it's the joy of giving. Just like we experience the joy of giving when we give to Heifer."

"Too, there is an impact that "passing on the gift" has on the peaceful relations between communities. When they're raising animals together, they have a common project and some of these barriers are broken down and peace replaces it," she says.

In addition, another reason Jean and Larry choose to give to Heifer is that it's a "responsible organization with good financial control and good management. We look carefully at any organization that we give to and Heifer meets that test," Jean says.

She explains, "When you retire, you get a different attitude. You are no longer accumulating things. It's time in life to give and to stop buying materials things. Our resources now should go towards sharing. I'd like to know when I leave this world that I've left a mark somewhere, that I've made a difference. We are very blessed and our faith teaches us that we should share what we have,"

"I just think world hunger can be solved. It's not a problem we can't lick. We just have to share the resources we have in this world," Jean says.

Larry adds, "We get the same 'glow' of passing money on to Heifer that the Heifer recipients get when receiving a goat or a sheep. It's a "passing on the gift" that we do."