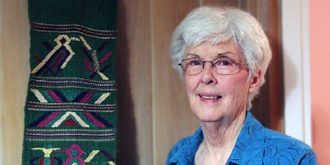 Rural Farm Lifestyle Strengthens Roots for Sustainable Giving

Nita Whitfield - Heifer Foundation Donor from Heifer Foundation on Vimeo.
Raised on a rural Tennessee farm, Nita Whitfield lived the perfect model of a sustainable, self-reliant lifestyle and wasn't even aware of it until later in her life. Both sets of her grandparents had survived off a farming income. From their dairy operation or cotton fields to the time of her upbringing, "we, as a family, would do much of the farm work together," Nita explains. Her father, with a B.S. degree in Agriculture, demonstrated those principals, as well, in his Agricultural Management career.

"Agricultural sustainability and practices of self-reliance were a part of farm life," she adds. "Many of these experiences during my childhood have impacted my lifestyle choices over many years." As a result, she received a M.S. degree in Nutrition and practiced most of her career in education and public health nutrition until she retired in 1997.

However, it was her strong relation to the animal gifts and the "Passing On The Gift" concept that first motivated her to give alternative holiday gifts to family members.

Nita explains, "We have to teach people how to use their own resources. It has to come from a grass roots approach like Heifer has designed it. I love the grass roots approach. I believe it's one of the strongest parts of Heifer."

In 1995, she went on a Heifer Work Study tour to Honduras where she was able to witness these partnerships that Heifer has with the local communities and organizations. She was encouraged with how the Heifer project sites were so appreciative as a result of their gifts from Heifer, plus the education and training they received.

"That whole relationship inspired me to get more involved with Heifer," she says.

In memory of her parents, Nita created the Robert G. and Carrie D. Whitfield Memorial Endowment with Heifer Foundation to benefit Honduras. Heifer will be able to use a percentage of this endowment every year in perpetuity in order to provide for the needs of the people in Honduras.

Also, she created The Gender Equity Endowment (Rosalee Sinn WiLD Fund) to benefit the training of women to become leaders in their communities.

Nita says, "I have a real interest in equitable family obligations in the community and the opportunities for women to be trained and take leadership." In Honduras, she noticed that the women did most of the labor and were mainly responsible for keeping the family unit together even though they weren't the decision makers.

"That's one of the good things about gender equity — the training is moving toward women having these responsibilities," she explains.

Through Heifer Foundation, she has created other planned giving instruments that provide her with a sustainable future. These include an annuity plus a Charitable Remainder Unitrust (CRUT), both of which provide her with the benefits of personal income for life.

Nita has also named Heifer as a beneficiary in her Will.

In addition to her gifts, she has been a dedicated volunteer of her time to Heifer. From her local Heifer committees and exhibits to work assignments at Heifer Ranch in Perryville, AR, Nita says she "feels connected to an organization that positively impacts the lives of families and individuals throughout the world."

At this time in her life, Nita has found there are several advantages in partnering with Heifer Foundation.

She says, "I need the kinds of opportunities that the Foundation provides. The tax benefits strengthen my overall financial management and charitable goals. These decisions result in leaving a legacy of philanthropy that expresses my values."