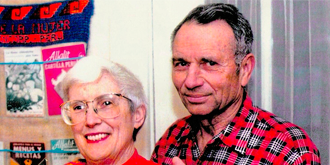 Chuck and Ruth Dow spent much of the spare time in their professional lives working both home and abroad to address the root causes of hunger and poverty through improved literacy, nutrition and educational opportunities. Since their retirement, they have stepped up their efforts even more, supporting a variety of non-profits such as Heifer International, Alfalit and others.

The Dows, of Naperville, Illinois, work as volunteers for several months each year, teaching programs throughout South and Central America, Mexico and some in Africa. Through a charitable unitrust with Heifer Foundation, the Dows have been able to support not only Heifer's mission of ending hunger and poverty, but also the related missions of Alfalit, Feeding America, Habitat for Humanity and Bread For the World Institute.

A unitrust is a charitable remainder trust that provides variable income for donors for their lifetime or a number of years, while providing income tax deductions and possibly bypassing capital gains taxes. A gift of cash, stock or real property can be made to establish a unitrust, with the balance going to the charities the individual has designated. If Heifer International receives 50 percent of the balance of the unitrust, then Heifer Foundation administers the entire trust for no charge, something Ruth considered a "super solution" for their charitable giving needs.

"We didn't want to set up five unitrusts for the different organizations we support," she said. "It was much more attractive to us to be able to set up one unitrust and have all of the organizations taken care of instead of setting up separate ones for each organization we wanted to support. It was an added incentive to set up a unitrust with Heifer Foundation."

Chuck is a retired salesman and professional farm manager and Ruth retired after 30 years as a professor of family and consumer sciences at Eastern Illinois University. "After retiring we decided to focus on a small number of organizations that we believe are making significant contributions. We do a lot of programs with community and religious organizations, working with everyone from pre-school age to a 98-year old woman in Peru to hospital professionals in various countries," Ruth said. "All the philanthropies we work for are inter-related."

The Dows look for a personal connection with the organizations they work with, which is what they found with Alfalit, where they been long-time volunteers and Ruth has served as the volunteer nutrition program director. "The core purpose of Alfalit is literacy and around that core there are many other things, including nutrition, health, leadership skills, programs for women," Ruth said. Recently, their work for Alfalit took the Dows to Ecuador and Peru where they taught women and children in poor villages and pre-university students, among many others.

Another organization they feel personally connected to is Heifer. The Dows first heard about Heifer from their friend Alden Hickman, who was the executive director of Heifer at the time. "It was very easy to see what an outstanding organization it was," Ruth said. "We believe Heifer is absolutely one of the very best organizations in the world that truly changes lives and communities in such positive ways."

For more than 30 years, they have supported the organization in a variety of ways: Giving gift donations at Christmas in honor of their children and grand children, sharing Heifer's mission whenever they have the opportunity, and providing long-term support through the unitrust they established with Heifer Foundation.

"Heifer has been excellent and increasingly impressive over the years, the way they help people develop means to improve their lives and those of their families and communities. When they 'Pass on the Gift' they help others improve their lives," Chuck said.

Through their generosity and tireless commitment to affecting positive change in the world, the Dows continue to "Pass on the Gift."